The San Francisco Injury Center celebrated its 20th Year Anniversary by hosting an Open House on May 27, 2009. Participants included the hospital community, community supporters and providers, as well as local and state politicians.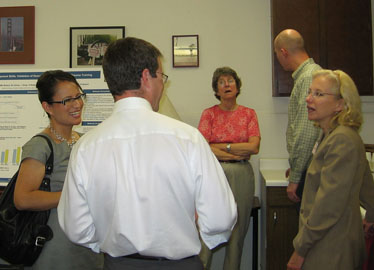 SFIC staff with Liz McLoughlin, ScD
From left to right Dahianna Lopez, RN, MPH, Mitch Cohen, MD, Liz McLoughlin, ScD, Lou Fannon and Mary Nelson, RN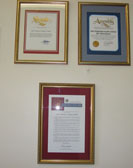 Congratulation certificates issued by the offices of Senator Mark Leno, Senator Leland Yee, PhD, and Fiona Ma for 20 years of excellent service to the community

Posters were produced for each current research project for the SFIC. Here is Jennifer Mah with the poster on, "Psychiatric Disorders and Injury: The Trauma Center as an Opportunity for Screening, Intervention and Injury Prevention."


SFIC Directors
Dr. Rochelle Dicker, SFIC Director and Dr. Mitch Cohen, Director of Acute Care Research (far right)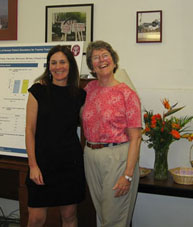 Principal Investigators
Current PI Dr. Peggy Knudson and former PI Liz McLoughlin, ScD