The San Francisco Injury Center (SFIC) has been continually funded by the Centers for Disease Control through the Department of Surgery at the University of California, San Francisco since 1989. It is a multi-disciplinary collaboration of institutions, researchers, clinicians and advocates committed to the prevention and control of injuries through research and advocacy.
The SFIC is housed on the San Francisco General Hospital (SFGH) campus of the University of California, San Francisco (UCSF). San Francisco General Hospital has been officially designated a Level 1 Trauma Center. With a high level of trauma patients admitted to the Trauma Center, the SFIC is well positioned to conduct research on acute care and rehabilitation, and injury prevention activities. The core faculty has been members of the Departments of Surgery, Neurological Surgery, Neurology, Psychiatry and Social and Behavioral Sciences at UCSF.
The UCSF campus is devoted exclusively to the health sciences (medicine, nursing, pharmacy and dentistry) and ranks among the premier health science universities in the United States. The Department of Surgery at UCSF currently ranks second among university surgical departments receiving NIH research funding. Both the Department of Surgery and UCSF itself continue to attract among the very best students, research and fellowship candidates for training.
SFGH is also part of the San Francisco Department of Public Health's Community Health Network. Its facilities are dedicated to trauma care and include an active Emergency Department with 73,000 annual patient visits.
In the first round of funding, the Center's mission was "From Injured People to Injury Policy" and

included a wide range of research areas: acute care, rehabilitation, engineering and prevention. The Paramedic Division staff tested an oxygen-saturation monitor, used "911" data to map San Francisco injuries and studied how homeless people use the paramedic services. Trauma surgeons studied how severely damaged lungs use oxygen, how to prevent deep venous thrombosis, how to diagnose vascular injuries using Doppler imaging, what factors can predict fetal survival after injury to a pregnant woman and what factors predict survival in elderly trauma patients. Prevention activities at the Trauma Foundation, an injury prevention advocacy agency housed at SFGH and a subcontract to the SFIC, included: work to prevent head injuries by arguing the merits of motorcycle helmet laws and the economic impact of the California motorcycle helmet law; work on the prevention of residential fires by advocating for the fire-safe cigarette legislation; and advocating for alcohol tax increases to prevent alcohol-related injuries. The Trauma Foundation's Injury Prevention Library collected materials and provides investigators, policymaker and the media with accurate information on injury problems and control. The San Francisco Bay Area Regional Poison Control Center used SFIC funds to study the efficacy of existing surveillance systems for poisonings and the economic contribution of poison control centers to the health care system. The World Institute on Disabilities worked to improve state policy on personal assistant services for people with disabilities and studied the attitude of the medical profession to people with disabilities.
At San Francisco State University, the Wheeled Mobility Center studied the causes of injuries sustained by active wheelchair rides and re-designed the wheelchair's front caster to prevent forward tips and spills. And finally staff at UC Davis, School of Medicine and UCSF's Institute for Health Policy Studies examined regionalization of trauma care and how current trauma systems and pediatric trauma centers care for injured patients.
In the next full funding round, the Center's theme was "Injury Control: Translating Research into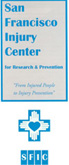 Interventions." The research focus was grounded in a multidisciplinary approach that was specifically focused on stimulating translational research which would impact both prevention and treatment of trauma injuries. The trauma surgeons and neurosurgery staff worked to describe changes in tissue oxygenation, local metabolism and the molecular and cellular events induced by hemorrhagic shock and resuscitation in an experimental model of traumatic brain injury; and investigated the use of tissue oxygen and metabolic monitoring during resuscitation and initial management of critically injured patients. Psychiatry staff at Children's Hospital in Oakland investigated factors influencing the development and resolution of post-traumatic stress disorder symptoms in pediatric trauma patients. Researchers at University of California, Berkeley, Orthopedic Biomechanics Laboratory investigated the repetitive forces involved in acute and chronic injuries of the vertebral bodies of human spines. SFIC also served as the lead agency for the SF SAFE KIDS Coalition. Funding also covered the evaluation of the Men Overcoming Violent Environments (MOVE) adolescent batterer treatment program.
Staff worked on surveillance instruments for both pedestrian injury connecting police and clinical records and the establishment of the San Francisco Violent Injury Surveillance System with SF Dept of Public Health. In the later years of this cycle, new project developed from this injury surveillance. Pedestrian injuries were addressed through various other projects to increase community awareness of the issue. This included the Think First for Kids Project which was taught in SF schools, staff participation in the Pedestrian Injury Advocacy Committee of SF, and coordination of a study on vehicle back over injuries. A video game for children aimed at increasing safe pedestrian behavior was in the development phase. In the last year of this cycle, funding was granted to evaluate the Wraparound Project which is dedicated to reducing recidivism from violent injuries for at-risk youth who are seen at the hospital. In these years the Center also did extensive work in the development simulation-based training for trauma personnel.
For the current funding cycle, the theme for the SFIC is "Injury Control 2010: Making Changes and Meeting Challenges." Research activities include: 1) the development and validation of a scenario-based simulation enhanced curriculum design to prepare medical personnel to deal with injuries common to military and civilian mass casualty incidents; 2) to investigate the use of two novel methods of monitoring resuscitation in critically injured patients; 3) to evaluate the cost of pedestrian injuries; 4) to explore the screening and intervention for psychiatric disorders in acutely injured patients as a means of injury prevention; 5) to evaluate and disseminate an interactive, computer based prevention game for elementary school children; 6) and to develop a new paradigm for a trauma system's approach to the care of interpersonal violent injury victims in order to minimize risk of future injury. For details on these current projects see the Research Section.
Throughout the Center's history, staff has had a strong commitment to educate and train future injury control professionals through our work with doctors in training, research fellows, local community groups and practicing physicians in the U.S. and abroad. Surgical residents have been housed at the Center for a two year research fellowship funded by NIH and are mentored by researchers at the SFIC. Center staff created a CD for medical students as a "primer" on injury prevention and control which was distribute widely. The SFIC held an annual eight week course on violence prevention for medical professionals in the winter term at UCSF for 7 years. Dr. Knudson developed a course of ultrasound training primarily for surgical residents and along with other staff provided ultrasound training for trauma physicians in Uganda. Dr. Knudson also is responsible for training surgical residents in non-technical skills for resuscitation using simulation. The center has held conferences over the years on injury prevention the most recent for "leadership development" for community based advocates and public health personnel. And all program staff lecture widely, often bringing the research from the Injury Center to national and international audiences.

The Center has enriched the injury prevention field with over 90 peer reviewed publications relating to our research. (See publication listing). Other publications include newsletters and epidemiology studies of local injuries. In the early days it distributed a newsletter, "Injury Prevention Network" dealing with one prevention issue per publication. Beginning in 1994 the Center produced five "Profile of Injury in San Francisco" a report which defines the state of injury in San Francisco to assist policymakers in deciding where and how to use scarce resources to reduce risk and prevent injuries. (See Profile, 2004)
For more information about current activities see About Us