Principal Investigator: Rochelle Dicker, MD
Co-Investigators: Wendy Max, PhD, Dahianna Lopez, RN, MSN, MPH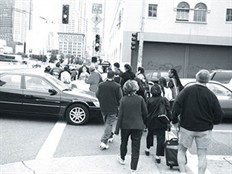 Brief Summary of Project: This study aims to describe the injured pedestrian population in San Francisco, the associated hospital costs for treatment at San Francisco General Hospital (SFGH), and the nature of cost by collision location. One of the unique features of the study is the reporting of cost rather than charge data. The few medical expenditure studies published in the literature have generally reported charge data, which refers to the amount billed for medical care. Our study reports actual cost, which refers to the amount actually paid for care, by insurance companies or patients themselves. Data from patient medical records, the trauma registry, hospital billing information system, and police reports for all patients involved in an auto-versus-pedestrian collision (AVP) from 2004-2008 and treated at SFGH, the city's only Level I Trauma Center, were included in this study. The analysis included total cost of pedestrian injury per year and by Supervisory District. An abstract was submitted and the work was presented at the March 2010 Western Trauma Association Conference. The corresponding manuscript is in review at the Journal of Trauma.
Milestones: By December of 2009, all data related to the cost calculations-namely, hospital charges, professional fees, and ambulance charges-were collected for the years 2004 to 2008 (n=3598). We collected 5 years of data in order to increase statistical power and assess cost trends over time.
The analysis of cost of injury according to body regions affected was replaced with a geographic analysis of cost based on collision location in the City of San Francisco. We believed that this sort of analysis would provide pedestrian safety stakeholders the ability to make an economic case for prevention and identify costly areas of the city where effective safety interventions could be piloted.
One of the challenges of mapping cost by collision location was the lack of available data to match incidents identified by the Trauma Registry to police reports. Given the strong interest by multiple agencies to merge the transportation and health data, one of the future goals may be to create a feasible informatics plan to seamlessly interface databases, while still upholding the principles of patient confidentiality.
Results
Geographic: Out of 3,598 pedestrians included in the study, 931 (26%) were admitted and 2,667 were nonadmitted (74%). Age ranged from 0 to 94 years. Children between the ages of 0 and 19 accounted for 14%, while adults (20 to 64 years) and elderly patients (over 65 years) accounted for 72% and 13%, respectively. Over 50% of the sample consisted of Caucasians and Asians (33% and 25%, respectively). Ninety-eight percent lived in California at the time of the injury, while 74% lived in the City of San Francisco. Only 0.6% of all pedestrians in the sample were visiting San Francisco from a foreign country at the time of injury. Homeless people accounted for 7% of the sample.
Cost of Pedestrian Injury in the City and County of San Francisco: After adjusting for economic inflation, the total charges for the 3,598 pedestrians in the study over the 5-year period amounted to $171 million (expressed in 2008 dollars). Total cost, or the actual amount paid for medical care, was $74.3 million. Total cost increased by year, from $11.2 million in 2004 to $17.7 million in 2007, and then decreased to $15.7 million in 2008. The cost to treat pediatric patients for all years was $6.4 million, while the cost for adults and older adults was $52.7 million and $14.3 million, respectively. Only 24% ($17.6 million) of the total cost was charged to private insurance and the rest was charged to public funds such as MediCal (28%), Medicare (17%), and to patients themselves (16%). The minimum amount billed directly to patients (uninsured) was $5,143 and the maximum was $505,952.
Although admitted patients accounted for only 25% of all AVP collisions, the cost of their medical care accounted for 82% of the total. It mean cost per pedestrian per year ranged from $47,303 to $77, 679 for admitted patients and $3,798 to $6,405 for nonadmitted patients, suggesting that an admission was at least 1200% as expensive as a nonadmission each year. The maximum cost for a single admitted patient was $1.9 million.
Predictors of Cost of Admission: The regression was a rather poor fit (R2 adj = 48%), but the overall relationship was significant (F4,926 = 220.435, p = .000). With other variables held constant, cost was positively related to hospital days, ICU days, and age. The strongest positive predictor was number of ICU days (β = .92, t(926) = 7.72, p =.000) followed by hospital days (β = .44, t(926) = 13.79, p =.000) and age (β = .07, t(926) = 2.83, p =.000). Number of ventilator days, on the other hand, was a strong but negative predictor of cost (β = -.634, t(926) = -5.5, p =.000).
Total Medical Cost per Supervisory District for Admitted Patients 2004-2008: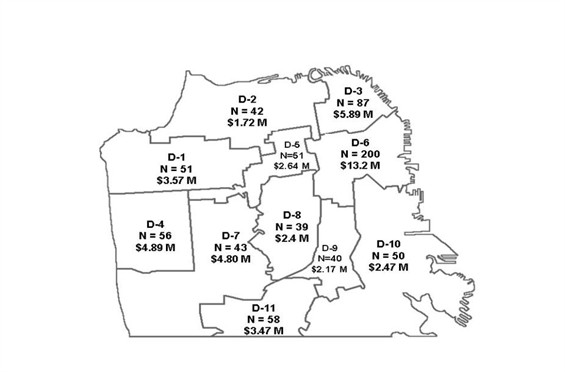 Significance: The study findings highlight the economic burden of pedestrian injuries. These costs are underestimates as they do not cover indirect costs, such as those incurred after discharge. This was the first study to examine direct cost in detail and how it applies to particular regions in a city. Implications of mapping the cost include advocacy on the part of City Supervisors of relevant Districts affected and the citizens in that particular District. In addition, we can target particular Districts and environmental characteristics to matching countermeasures with the aid of our city planners. The work was presented at the Western Trauma Association Annual Meeting.
The Injury Center's Prevention Director, Dahianna Lopez, RN, MSN, MPH holds the Public Health seat on the Pedestrian Safety Advisory Committee (PSAC) and has recently been elected Secretary. The committee publicly represents the SF Board of Supervisors on pedestrian issues. We encourage members of the public to participate in the monthly meetings at City Hall. For more information, please visit: Pedestrian Safety Advisory Committee