Project Director/Lead Investigator: M. Margaret Knudson, MD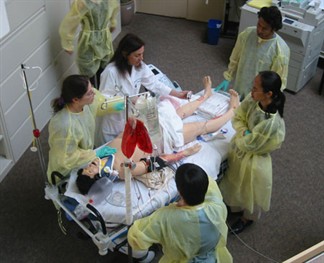 Brief Summary of Project: Our work with patient simulators over the past few years has included two aspects. First, we developed a comprehensive trauma training course that could be delivered either in a didactic fashion or using a human patient simulator. We have utilized our course in both formats to prepare our surgical residents for their role on the trauma service. Evaluating their actual trauma resuscitation performance captured on video film in the emergency department, our initial analysis suggested that residents trained in simulation demonstrated superior crisis management skills.
Specific Aims:
1. To develop a curriculum with embedded clinical trauma scenarios that can be used with or without the Human Patient Simulator (HPS) to both train and test surgical residents in the initial diagnosis and treatment of critically injured patients..
2. To develop objective methods of evaluating residents' non-technical skills during both simulated and actual trauma resuscitations and management scenarios.
3. To demonstrate that training in simulation translates into superior performance during actual trauma codes when compared to didactic training only and no training group (observational controls).
4. To validate objective methods in their ability to distinguish different levels of surgical trainees.
Results: To date, we have trained 44 residents using our unique trauma course enhanced with simulation and it has now become part of our standard curriculum, allowing us to commence team training at the beginning of the trauma rotation. We have subsequently turned out attention to TEAM training for other members of the hospital staff, including anesthesia, nursing, emergency medicine, and obstetrics as well as surgery. These TEAM training exercises are currently in the development phase but will focus on all types of emergencies, including disaster scenarios. We have obtained a grant from the San Francisco General Hospital Foundation to purchase and support another simulator dedicated to team training and have begun to work on new scenarios based on our prior experience.
Future: Dr. Knudson has obtained some first-had disaster training with the Navy during the Haitian Earthquake and continues to work with the American College of Surgeons Committee on Trauma to prepare surgeons nationally for their role in disaster response.